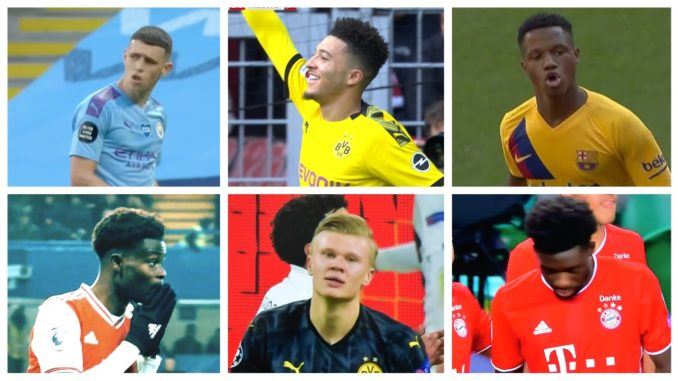 List of 40 nominees has been announced for Golden Boy 2020. All nominees must be under the age of 21 and play in a European nation's top tier competition.
Here are the top six contenders who are favourite to win the coveted award presented by Tuttosport.
Erling Haaland (Borussia Dortmund)
The Norwegian prodigy seamlessly adapted to the Bundesliga, scoring 13 goals in 15 games in his half-debut season. The 20-year-old had scored a mind-boggling total of 44 goals in all competitions last season.
Jadon Sancho (Borussia Dortmund)
Sancho went on to etch his name as one of the best attackers in Europe after racking up 17 goals and assists apiece in Bundesliga last season. His dribbling prowess and eye for creativity often saw him compete with Lionel Messi for goals plus assists tally.
Bukayo Saka (Arsenal)
Bukayo Saka has made 38 appearances last season with most of those were first-team appearances. He scored his first goal for the club in a Europa League win over Frankfurt before bagging his first Premier League goal against Aston Villa. But the most important aspect of 19-year-old English player is his adaptability along with great skills and fearlessness. The left winger has served most of the season as left-back in Premier League and elsewhere. Then he quickly adapted as right winger and put a flawless display at forward position.
Ansu Fati (FC Barcelona)
The exciting Spanish talent had his breakthrough with Barcelona last season, breaking records after records. Barca perhaps sometimes were reliable on the 17-year-old, who bailed out his side on multiple occasions. Fati also debuted for Spanish national team and scored his first goal against Ukraine.
Alphonso Davies ( Bayern Munich)
Davies became a revelation in Europe after his eye-catching season with Bayern Munich. The 20-year-old won a treble in his first season with the Bavarians' first-team and is the favourite to win the Golden Boy award. Davies was converted to full-back by Hansi Flick, and the Canadain youngster thrived in his new role.
Phil Foden (Manchester City)
Phil Foden had a wonderful season last term with Manchester City, racking up 8 goals and 9 assists in all competitions. While showing flexibility to play in numerous positions, the 20-year-old scored against the likes of Liverpool and Arsenal. His impressive performances led him to debut for the England senior team.