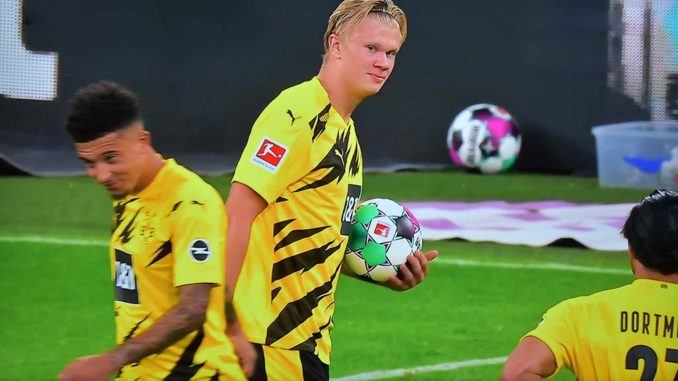 Borussia Dortmund picked up a 3-0 win at home against Borussia Mönchengladbach in their Bundesliga opener at Signal Iduna Park earlier today.
This match was marked with the return of fans to Bundesliga after covid-19 pandemic . Ten thousands Dortmund supporters attended the match to the relief of Hans-Joachim Watzke, CEO Borussia Dortmund, and fans all over the world.
The home side took the lead through Giovanni Reyna and then star striker Erling Håland scored a brace in the second half to seal all three points for Dortmund.
Dortmund controlled the game from start to finish and they will be delighted with their performance today.
The German outfit will be hoping to challenge Bayern Munich for the Bundesliga title this season and they have made the ideal start so far.
The likes of Jude Bellingham and Jadon Sancho were fantastic for the German outfit and the fans will be excited to see more from their talented young midfielders in the coming weeks.
Dortmund are perhaps best placed to challenge Bayern Munich for the title and it remains to be seen if they can build on the start and put together a series of wins now.
They will need the momentum in order to compete with the Bavarian giants.
Bayern Munich have a superior squad but Dortmund have the talent to take the title race down to the wire.
Defending champions managed to score eight goals against Schalke yesterday and that shows the kind of challenge, Dortmund have in front of them this season.
Dortmund have one of the best attacking units in Europe and it remains to be seen if the likes of Reus, Sancho and Håland cam guide them to the title this year.