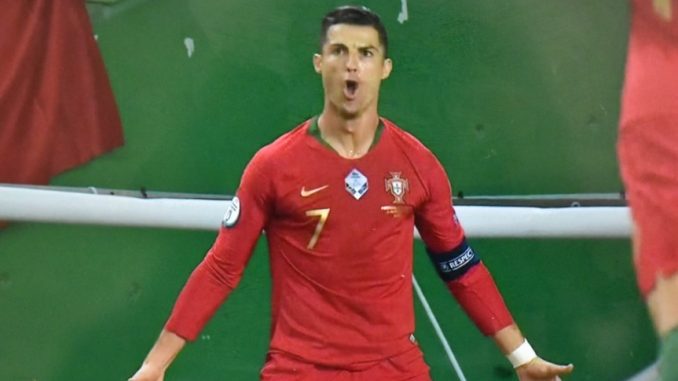 Cristiano Ronaldo already has an airport and a galaxy named after him as well his own aftershave, statue, and underwear brand.
Sporting CP president Frederico Varandas says the club would be "very proud" to name their stadium after Cristiano Ronaldo.
The arena in Lisbon is currently called Estadio José Alvalade after the man who founded the club in 1906, but there has been talking of the Portuguese outfit honouring Ronaldo, who has become the club's biggest success story. And Varandas has given his seal of approval to the renaming, highlighting how the club continues to use him as a source of inspiration.
Cristiano Ronaldo's career has always been closely linked with Sporting CP, the club he joined at the age of 12 before making his first-team debut in the 2002/03 season.
The forward scored his first goal for Sporting at their old stadium on October 7, 2002, against Moreirense, while at the opening of the Estadio Jose Alvalade, Cristiano's performance against Manchester United led to the English giants buying the teenager.
Now, one day after the Portuguese legend scored his 700th career goal, Sporting's president, Frederico Varandas, has told Tuttosport that the Estadio Jose Alvalade could be named after Cristiano.
"Calling the stadium 'Cristiano Ronaldo' is an option that, right now, we are not against," Varandas explained to Tuttosport. "It would be a source of great pride for us."
Cristiano played 31 times and scored five goals in the 2002/03 season, his last campaign before joining United."Cristiano Ronaldo is and always will be one of the great symbols in the club's history," Varanadas added.
"We are very proud to be associated with Cristiano and that the name of the best player in the world is associated with Sporting."
The current Juventus star spent five seasons in the youth system at Sporting, and Varanadas recognizes that he wants the young players at the club to look up to Cristiano.
"We want him to be an example for those in our academy; we want his image to be present in the lives of our young players," he noted.
It should be remembered that, a few months ago, the option of the Estadio Jose Alvalade being named after Cristiano already made headlines in Portugal and Italy.
However, the news at the time indicated that, beyond the apparent tribute to the player, the 'CR7' brand would pay to give Sporting its name.
The Portuguese side are looking for ways to deposit money and selling the name of the stadium is a viable option, so allowing the 'CR7' brand to buy the stadium's naming rights would not only bring in funds, but it would enable them to honour still the most significant player they have ever produced.
The current name has stood since the 50,000-capacity ground was built in 1956. Jose Alvalade was the founder of Sporting Lisbon and became the first member in July 1906.