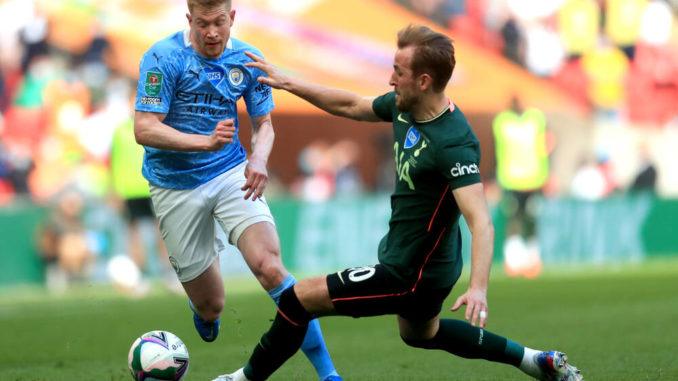 Kane has been heavily linked with a move away from Spurs this summer.
After reports emerged that Harry Kane is eyeing an exit from Tottenham Hotspur this summer, the English striker has opened up about his future in an interview with Gary Neville.
Spurs have endured a lacklustre season so far, which will see them miss out on European competition, which has led Kane to contemplate his future.
Now, the 27-year-old has revealed that he wouldn't have any regrets if he were to quit his boyhood club after more than a decade.
"For me, I don't want to come to the end of my career and have any regrets, so I want to be the best that I can be. I've said before; I never say I'd stay at Spurs for the rest of my career… I'd never say I'd leave Spurs. I'm at that stage where you can say you know; people may say, 'oh, he's desperate for trophies; he needs the trophies."
Kane also added that he wants to be in the same conversation with greats like Lionel Messi and Cristiano Ronaldo as he feels that he has some good years ahead.
"I still feel like I got almost another career to play. I've got 7-8 years, kind of what I've had so far in the Premier League. I'm not rushing anything, I'm not desperate to do anything, but yeah, I just want to be the best version of me. I feel like for sure; I've still got so much more to give, I can be even better than what I've been, I can produce better numbers than what I'm producing at the moment…"
"I feel like I've got a good seven or eight years at the top when you look kind of the Messi's, Ronaldo's … your Ibrahimović's all kind of getting better as they get, reach their early 30s."
The Three Lions international has also insisted that he would like to discuss his future with Spurs chairman Dani Levy.
For sure, there's a moment in my career where I have to reflect and see where I'm at and have a good honest conversation with the chairman, and I hope we can have that conversation. I'm sure he'll want to set out the plan of where he sees it but ultimately, it's going to be down to me and how I feel and what's going to be best for me and in my career at this moment in time."
Although the Spurs have faltered this season, Kane has been in terrific form, racking up a total of 22 goals and 13 assists in the Premier League.
Manchester City and Manchester United are understood to be the potential destinations should he leave Spurs this summer.
Amid Man City interest, Kane revealed the dream to play with Kevin de Bruyne while heaping praises on the Belgian playmaker.
"When I watch De Bruyne play, he's a special, special player, and some of the balls I see him put in for City are just a strikers dream if I'm honest, but yeah, he's outstanding, you've seen him, he's an outstanding player with the ball, off the ball, pressing, but his delivery is as good as I've ever seen, to be honest."