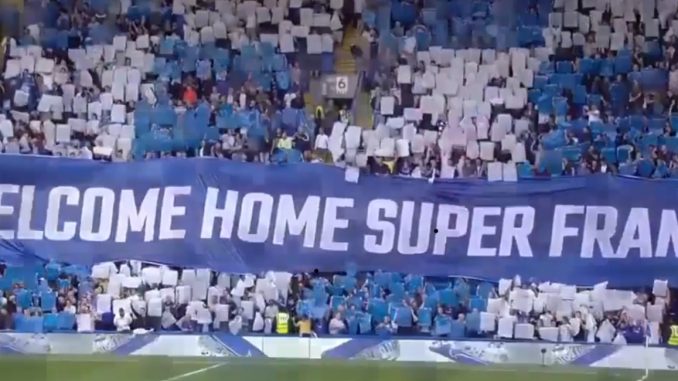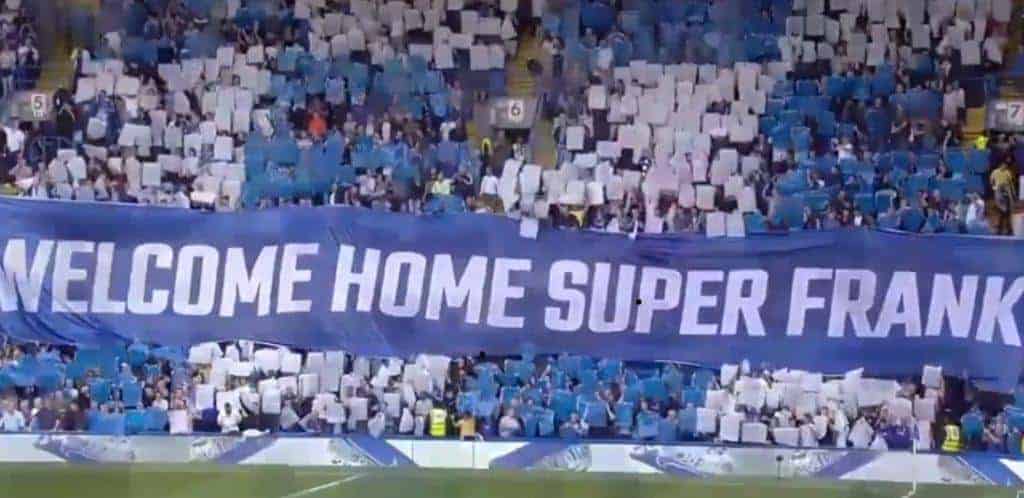 Chelsea: Mason Mount (7″)
Leicester City: Wilfred Niddi (67″)
Mason Mount snatched ball from Wilfred Ndidi to score  an early goal. But Ndidi equalised for Leicester to spoil Frank Lampard's homecoming party
First Half
Lampard was given a hero's welcome, and the good mood continued in the first half ; Pedro hit the side-netting before Kasper Schmeichel saved low from Mount's half volley. But the 20-year-old got his goal just minutes later.
"Welcome home Super Frank" read the huge banner that was passed along the Shed End prior to kick off. It was appropriate that Mount, a goal-scoring midfielder, made his mark in his full Premier League debut.
Lampard has faith in Mount in a way that none of his predecessors in the Roman Abramovich years has encouraged youth and there was an early dividend when he was sharp to pounce, dispossessing. He brought Mason Mount in place of Mateo Kovacic after Wednesday's Super Cup loss to Liverpool. Putting pressure on Ndidi in the final third, Mount robbed the Leicester midfielder before slotting low past Schmeichel from just inside the area.
Goal
Take a bow, Mason Mount! ???????? pic.twitter.com/0xZqoSM1XJ

— Chelsea FC (@ChelseaFC) August 18, 2019
Second Half
Leicester upped their game after the break, going close as Maddison rounded Kepa Arrizabalaga, only to see his centre cleared by Jorginho. Tammy Abraham was introduced to a huge ovation from the Stamford Bridge crowd after suffering racist abuse on social media in midweek.
Leicester's leveller was deserved as Ndidi made amends, rising superbly above Cesar Azpilicueta from Maddison's right-wing corner to leave Kepa rooted.
Team
Here's how the Blues line up against Leicester today, our first home game of the season! ???? #CHELEI pic.twitter.com/QOFh6DZfjA

— Chelsea FC (@ChelseaFC) August 18, 2019
Leicester: Schmeichel, Pereira, Evans, Soyuncu, Fuchs, Choudhury, Ndidi, Tielemans, Maddison, Perez, Vardy
Head to Head
After Match
"It's the stuff of dreams," Frank Lampard said after his first game as Chelsea head coach at Stamford Bridge. "But I am here to win." And it is now three games without a win for Lampard and the harsh reality is that against an impressive Leicester City they were not good enough; they were not the stuff of dreams.
"We need to be tougher and have game management," he added and after a "first patch" of 25 minutes in which they utterly dominant they were left hanging on in front of their own supporters with Lampard also acknowledging the exasperation. "If there were frustrations in the crowd there were frustrations on the bench and in the team. We want to do well," he argued. "There are some tough elements to this year."
James Maddison "We're coming away disappointed. We had chances, myself included, and when you play as well as we did in the second half you have to score the chances we create. I need to improve my goal tally if I want to go to the next level, which I know I can. Chances like that don't come around very often. I've gotta put it away.
"The reaction of Wilfred was brilliant. He showed so much character to come back from a mistake like that to control the game and then score the equaliser. He doesn't get the credit he deserve – he does the part of the game that nobody else wants to do."
Wilfred Ndidi "It's something I try not to think about [the mistake] but it still comes up in my head. I didn't know he was there. It's a mixed feeling scoring the equaliser. We did very well in the second half and we'll try to take that to the next game."