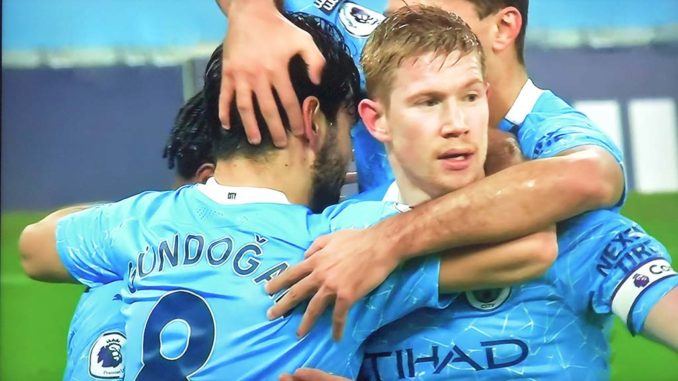 Manchester City picked up a 3-1 win over Chelsea in the Premier League earlier tonight.
Ilkay Gundogan opened the scoring for Manchester City on the 18th minute.
The German midfielder was set up by Phil Foden and he managed to find the net with a great turn and shot.
Manchester City doubled their advantage three minutes later when Phil folden converted from Kevin De Bruyne's low cross.
The Belgian midfielder wrapped up the scoring for Manchester City on the 34th minute. He managed to convert the rebound after Raheem Sterling's effort came back off the post.
Pep Guardiola will be delighted with his team's performance here and Manchester City will be hoping to close the gap with Liverpool and Manchester United in the coming weeks now.
Manchester City were without star keeper Ederson here but Zack Steffen produced an impressive display to deny the likes of Cesar Azpilicueta for Chelsea.
Chelsea were fortunate to concede just three goals and Edouard Mendy was impressive in between the sticks and he denied the likes of Rodrigo.
Chelsea winger Callum Hudson-Odoi scored a stoppage-time consolation goal for the Blues and Manchester City are now up to 5th in the Premier League table with 29 points.
Meanwhile, Chelsea are eight in the Premier League table with 26 points and they will have to improve a lot in the coming weeks if they want to stay in the title race.
The Blues are currently seven points adrift of League leaders Liverpool and it will be interesting to see if they can bounce back with a positive result in their next outing.