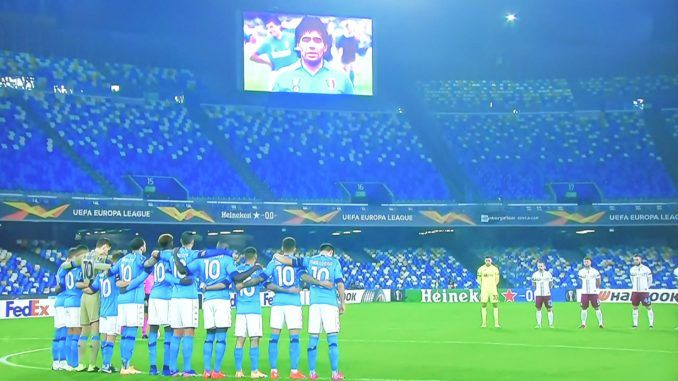 The Neapolitans had a comprehensive win against Rijeka in the Europa League.
Napoli have defeated Rijeka 2-0, with Matteo Politano and Hirving Lozano finding the scoresheet in a UEFA Europa League contest.
The game started with players paying tribute to legend Diego Maradona, who passed away recently, while Napoli wore No.10 shirt in memory of their former club legend.
Gennaro Gattuso shuffled the squad considering the importance of the game and a result, Petagna, Bakayoko, Elmas started the game.
Politano was brilliant in the first half creating a big chance for Hirving Lozano, who was a whisker away from reaching out to the ball and the Italian forward also had a shot denied by Rijeka goalkeeper.
Politano deserved to put Napoli on the front foot after scoring a tap in, aided by a brilliant cross from Peter Zielinski. Lozano doubled the lead in the 75th minute and the goal turned out to be the final one of the game.
Napoli have now moved a step closer towards qualifying for the next round, currently topping the group with 9 points.
The Partenopei have won all of their three games following the defeat to AZ Alkmaar.
Napoli's good run in Serie A had hindered after losing to Sassuolo and Milan this month and the win against Rijeka must have handed them confidence ahead of the weekend's clash against Roma.
Gattuso, who initially paid his respect to Maradona, weighed in on the win against the Croatian side.
"All games are difficult, because even against a local side, it's going to be tough if you don't approach it the right way.
"This performance was much better than three weeks ago away to Rijeka, but we still made far too many mistakes and got pig-headed trying to find through balls. It was certainly an improvement."
We've won eight of our last 11 games, but if people think we are Galacticos or like Barcelona, they are badly wrong. What I want to see is hunger, the desire to help each other out and work together."