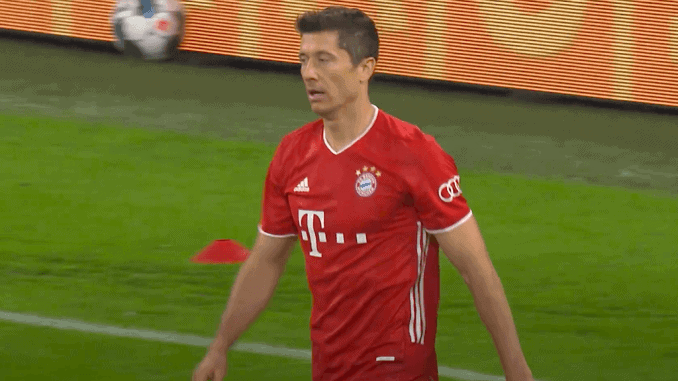 Bayern Munich took on Eintracht Frankfurt in the DFB Pokal game last night and they managed to secure a 2-1 win at home.
Goals from Perisic and Lewandowski sealed an important win for the German giants.
Bayern will be looking to go all the way in the cup competition this season. They have been in excellent form in the league and they are very close to winning the league title again.
Robert Lewandowski continued his unstoppable form with a goal against Frankfurt and he will be looking to end the season with as many goals possible.
The Polish international has 46 goals to his name this season and he could easily finish the season with 50-plus goals.
Bayern fielded a strong lineup consisting of the likes of Neuer, Muller, Goretzka, Lewandowski and Coman. They managed to sweep aside the away team with ease.
Perisic scored the opener for Bayern in the 14th minute and Frankfurt fought back with their equalizer in the second half. Lewandowski added the winner a few minutes later to seal the result.
Bayern Munich take on Gladbach in the Bundesliga later this week and they will be hoping to continue their title charge with another win at home.
It will be interesting to see whether Flick decides to alter his lineup after the midweek game. The first team players could be fatigued and a few changes could be on the cards on Saturday.
It was a cup match, our opponents pressed very well, we were reeling at times

But at the end of the day it was a deserved victory. We should have taken our chances and scored one or two more goals, the second half would have been different then. But I still have to pay my team a huge compliment.

We're on a great run, the players are doing a very, very good job, so we can accept the second half. The main thing was to advance after such a cup fight. It's the step we wanted to take – toward the final in Berlin.

Hansi Flick, Bayern Munich Manager
Frankfurt showed a lot of fatigue in the first half. We were fresher, we should have taken a bigger lead.

But we too were tired and fatigued after the last few weeks, unfortunately it was similar in the second half. We were unusually sloppy. Our pressing wasn't deserving of our name.

Our defenders did a good job. They stifled a lot, but in terms of our play, the final ball, we can be anything but satisfied. We stepped on the gas after the equaliser.

Thomas Muller, Bayern Munich