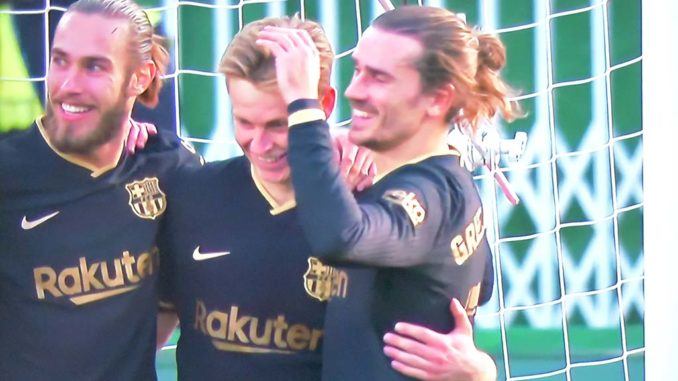 Barcelona forward Antoine Griezmann has been linked with an exit from the Catalan club in recent weeks, and club president Joan Laporta has now revealed that they are open to offers for the French international.
Laporta maintained that Griezmann is a key member of the club, but there is a market out there for him, and the Spanish outfit could cash in on the player if a suitable offer comes in.
He said: "Griezmann is a Barca player. He has a contract with the club until 2024 and, unless circumstances change, we are counting on him.
"There have been some movements on the market, and we can't deny that there's been interest in him. That's a sign of his quality.
"It's a special market, and you have to use your imagination, perhaps thinking in swap deals, but we value Antoine a lot. The club made a big investment in him, and we are happy with him.
"It's not easy for a club to come in with an offer for a player at his level. But the transfer window is just getting started, and there's a market for Griezmann.
"If things start moving, we're open to all proposals because we're in a delicate moment financially, and we have to balance the books to comply with the league's financial fair play rules."
Barcelona are under tremendous pressure to reduce their wage bill and raise funds for transfers.
Griezmann is one of the top earners at Camp Nou, and selling him could relieve Barcelona of their financial stress in the short term.
The player has been linked with a move to Manchester City and Atletico Madrid in recent weeks, and it will be interesting to see where the former World Cup winner ends up.
The Frenchman has not been able to replicate his Atletico Madrid form since moving to Barcelona, and the Spanish club should be able to cope with his departure.
They have already signed Sergio Aguero from Manchester City on a free transfer, and Memphis Depay has joined the club from Lyon.
It is doubtful that there will be any shortage of goals at Barcelona next season. Their priority is now to reduce the wage bill so that they can comply with the La Liga regulations and register their new signings.
Furthermore, they will have to sort out the contract renewal of Lionel Messi as well.