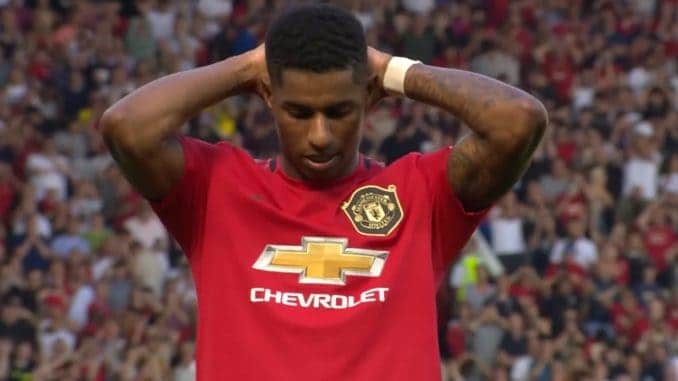 Crystal Palace: Jordan Ayew (32″), Patrick van Aanholt (90+3″)
Manchester United: Daniel James (89″)
Ole Gunnar Solskjaer and Manchester United suffered their first major setback of the new Premier League season on Saturday as Crystal Palace claimed a shock 2-1 win at Old Trafford.
First Half
Jordan Ayew had scored the opener in the first half against the run of play, latching on to Jeffrey Schlupp's flick-on and coolly converting Palace's first goal of the campaign, before the late drama.
Goal
???? The coolest man in the house.#CPFC pic.twitter.com/Td7qzcQmq5

— Crystal Palace F.C. (@CPFC) August 25, 2019
???? The tackle from Christian made this happen.#CPFC pic.twitter.com/i6sF1skpGS

— Crystal Palace F.C. (@CPFC) August 26, 2019
Second Half
There was yet more penalty woe for United too. With Palace leading 1-0, Marcus Rashford was handed an opportunity to level from the spot when Scott McTominay was tripped by Luka Milivojevic midway through the second half, but his attempt hit the post.
But Rashford will rue striking the post from the penalty spot earlier in the second period – the second spot-kick the Red Devils have missed this week after Paul Pogba had one saved in the 1-1 draw at Wolves on Monday.
United could and perhaps should have had a second penalty later on when Rashford tumbled over in the box. While the referee and VAR didn't detect an offence, the United boss saw matters differently. "It was nailed on," Solskjaer later reflected.
Daniel James thought he had rescued a point for United when he curled in a delightful equaliser in the 89th minute following neat build-up from Marcus Rashford and Anthony Martial. Full-back Patrick van Aanholt netted in the 93rd minute, thumping in as the ball broke loose following Wilfried Zaha's burst forward.
Team
???? TODAY'S #MUFC LINE-UP ????

— Manchester United (@ManUtd) August 24, 2019
???? Here's how we line up for today's game.

COME ON YOU PALACE!#CPFC | #MUNCRY

— Crystal Palace F.C. (@CPFC) August 24, 2019
Head to Head
After Match
Manchester United boss Ole Gunnar Solskjaer: "We just weren't clinical enough. They scored two very easy goals. Two games, two missed penalties. If you score them, it's a different scenario. Sometimes it happens. The more we get into those positions, the more we will score.
"We dominated the game but we didn't control it. We should have dealt better with the last five minutes. "We created enough to win the game. But we didn't defend well enough." And when asked if the 21-year old was developing a reputation for diving from referees, Solskjaer warned: "Yes. That is what you do get. "That is why I raise it here."
He did, however, defend his young winger, calling him an "honest" player who is more prone to falling due to his impressive speed. "At that pace, a touch or a nudge will be enough for him to fall," the Norwegian added. "I am 100% sure there is contact between Dan and their defender. If you look at the video, there is contact and [there was in] the Wolves game. He has been unlucky. Neither yellow card should have stood."
Solskjaer was also annoyed at the lack of a red card for Gary Cahill for bringing down Anthony Martial in the first half and that United weren't granted two more penalties after challenges from Martin Kelly.
Crystal Palace boss Roy Hodgson: "It was a heroic victory. The players worked very hard. The penalty was unfortunate for us. It was strong for us to come back and win the game. The players can take a lot of credit. At one-nil with five minutes to go, I thought we would hold on.
"If you judge games on possession, then people will say we didn't deserve it. But when you win the game, it's very foolish of any manager to say we didn't deserve it. Discipline and desire is also part of a football match."