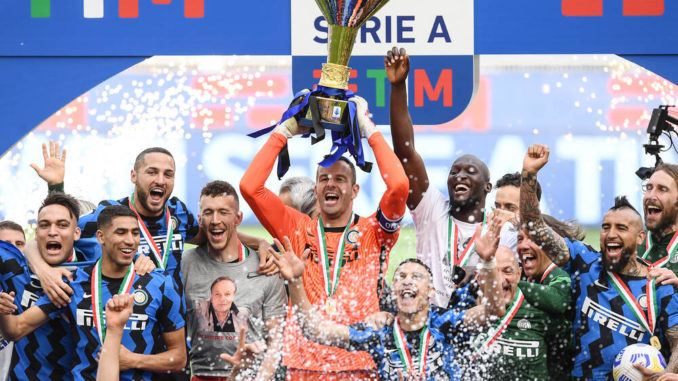 Inter Milan wrapped up Serie A 2020-21 in style
Inter Milan wrapped up a hugely successful season with a 5-1 win over Udinese earlier in the Italian Serie A.
Antonio Conte's men have won the title after 11 years, and they have finished 12 points clear of AC Milan at the top of the table.
The likes of Ashley Young, Christian Eriksen, Lautaro Martinez, Ivan Perisic and Romelu Lukaku were all on the score sheet as the Champions swept the visitors aside.
Manager Antonio Conte has revealed that winning the Scudetto with Inter Milan is amongst his greatest achievements as a manager.
He said: "I place this amongst my best achievements. It wasn't easy to come to Inter because I was joining a team that hadn't won for a long time. We worked, and after a year of effort, we did something incredible," Conte declared.
"It wasn't easy when you work at Inter you understand many things. Winning the Scudetto here gives me great satisfaction and makes me understand that seriousness, work, and sacrifice are the only weapons that the players and I can have. We were all good, me, the players and the club."
Meanwhile, the Italian outfit celebrated their title win with the fans in scintillating fashion after the game.
There were celebrations both inside and outside the stadium with the song of Italy's Eurovision winners blaring out.
Apparently, over 4000 Inter Milan fans celebrated the title win outside the stadium and welcomed the team bus with fireworks, flares and chants.
Inter secure €275m investment
Meanwhile, the Italian giants have confirmed a deal with the US best asset management organisation, Oaktree capital.
The deal will see the American organisation loan the Italian club a sum of around €275 million to beef up the club's finances. Inter Milan are currently struggling with financial issues due to the pandemic, and the loan will certainly help them in the summer.
Meanwhile, the US-based asset management firm will now own 31% of the club following their investment. The club's Chinese owner, Suning Holdings group, will continue to retain control of the club with 68.5% shareholding.
"Following a process of due diligence and with a collective long-term vision of the project, Inter have today finalised a financing deal with funds managed by Oaktree Capital Management, the statement read.
"With this financing deal, the shareholder will continue supporting Inter to overcome their difficulties and the opportunities lost during the Covid-19 period."