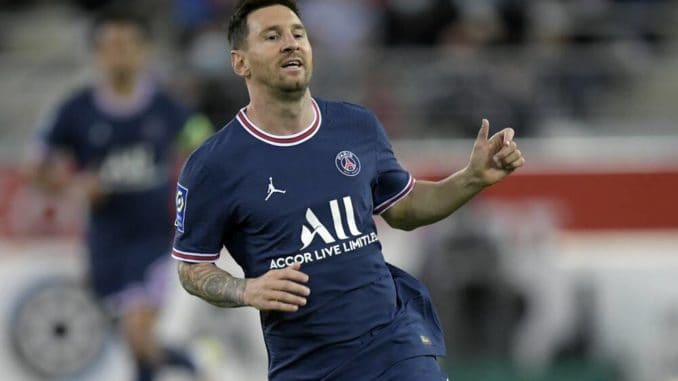 BT Pundits shocked to see Messi lying down behind the wall during Manchester City free-kick in Champions League on Tuesday.
Rio Ferdinand and Owen Hargreaves were surprised to see Lionel Messi lying down behind the PSG wall when Riyad Mahrez was about to take a free kick in his side's win over Manchester City on Tuesday.
The Argentine international opened his Paris Saint-Germain account with a well-taken goal in the second half to double his side's lead in the game. However, his off-the-ball involvement raised eyebrows in the closing stages of the game when he was caught lying down behind the free-kick wall to protect the ball.
After City were awarded a free kick just outside the area, Messi was seen getting himself dirty on the ground behind the wall as Mahrez prepared to take it.
The incident caused a stir and had Owen Hargreaves, and Rio Ferdinand surprised.
The former Manchester United pair were in punditry duty for BT Sport during the game and shared their surprise that Messi was getting involved in such a way.
"We couldn't believe it,' Hargreaves said.
"He's one of the greatest of all time, if not the greatest. "
Ferdinand then took over, saying:
"The moment Mauricio Pochettino asked him to do that at the training ground, someone should have gone in there and said, "no, no, no, no, this doesn't happen to Leo Messi".
"You can't. It's disrespectful. I wouldn't have it. If I was in that team, I'd say, "no, I'll lay down for you.
'I couldn't have him laying down like that. I can't see it. He doesn't get his kit dirty. That's not what Messi does."
The pair also praised Messi's goal in the game, labelling it as 'phenomenal'.
"The pace, the strength, the balance and the technique to put it where he did… phenomenal," Ferdinand said.
"Hakimi's run is so important because it takes the defender away. When you've got players like Hakimi causing havoc like that, it opens up the space for someone like Messi to exploit."
Owen Hargreaves then added: "There was so much to like about this goal. I love the overlap from Hakimi there, making the space. It's Messi all over.
"He would have been expecting it. He's the man for the big occasion. He always seems to score against Pep Guardiola teams for whatever reason.
"Today was the perfect performance from PSG. Once they got the first goal and the space opened up for Hakimi, with Messi being able to come inside and then Neymar and Mbappe are in there—it's going to be a thing of beauty."