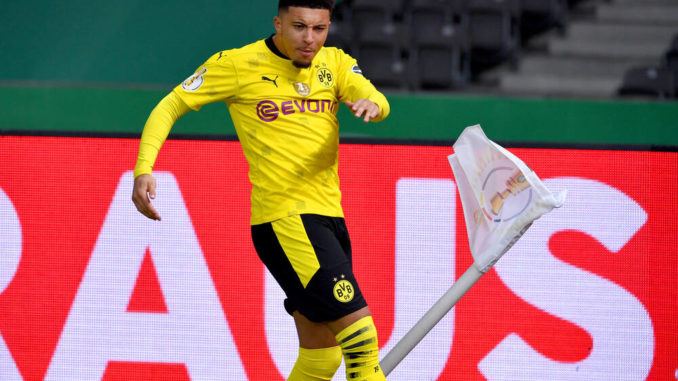 The Borussia Dortmund winger has been linked with a summer move.
Borussia Dortmund winger Jadon Sancho is said to be the subject of transfer interest from a host of Premier League clubs, including Liverpool.
Amid the speculations, Italian journalist Fabrizio Romano has provided an important update on Sancho's future, which states that the German club is ready to part ways with the English youngster but will accept only a fee of around 100 million euros.
Sancho, 21, is one of the hottest properties in Europe right now, following his stellar progress at Dortmund over the last few seasons.
Although he suffered a dip in form at the start of this season, Sancho has recovered lately and racked up some impressive numbers – 16 goals and 21 assists in all competitions. He was also instrumental in Dortmund beating Leipzig in the DFB Pokal final.
Sancho, who was pivotal for Dortmund securing the Champions League qualification, is also chased by Premier League giants like Manchester United and Chelsea, meaning that there would be fierce competition for his signing this summer.
United continue to be long-term admirers of the former Manchester City youngster while the Blues are pushing for his signing at the request of Thomas Tuchel.
Liverpool are looking for reinforcements this summer and have identified Sancho as a top target.
However, Dortmund's valuation looks a bit far-fetched given the current financial state of the clubs. It remains to be seen whether the Three Lions future star would find green pastures or end up staying at Dortmund, who will be playing in the Champions League next season.