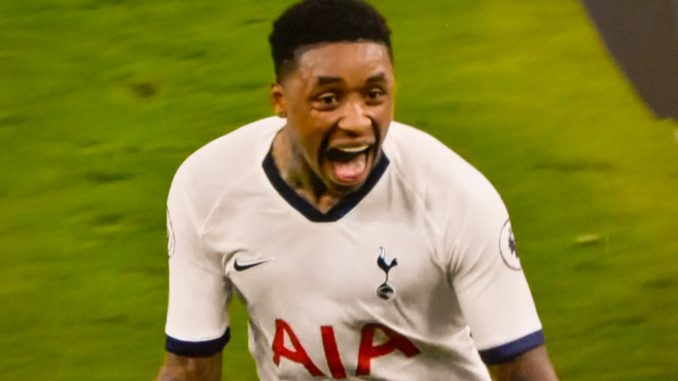 Steven Bergwijn marked his debut with a superb goal against 10-man Manchester City at Tottenham Hotspur Stadium, as Spurs won 2-0 boosting their top-four hopes.
The result lifts Spurs to the fifth place, four points behind fourth-placed Chelsea, while City remain second, 22 points behind Liverpool who can win the title if they win next six matches.
Spurs survived First half
Tottenham Hotspur were all over the places and they survive during this time. They blocked eight of City's 18 shots. Davinson Sanchez thwarted Aguero twice within seconds in the first half, Toby Alderweireld got a slight touch on the Argentinean's shot soon after, with Hugo Lloris pulling off a sensational save, and even Eric Dier managed to get in the way of a Bernardo shot in his ten minutes or so as a substitute.
Manchester City were lucky as Sterling escaped with only a booking at 12th minute, after replays showed his studs landing on the ankle and lower shin of Spurs midfielder Dele Alli.
Red for Zinchenko
Harry Winks intercepted a low ball from Mehraj's corner at 60th minute of the match. As he burst forward, approaching the halfway line, Oleksandr Zinchenko came across and trip him, resulting a second yellow card for Zinchenko and a swing of luck in Tottenham's favour. They opened the scoring three minutes later from a corner.
Spurs vs City – Goals
Lucas Moura's floated the ball at the top of the City-penalty area, to find Bergwijn in space. Bergwijn stooped to chest the ball down, and latched a low volley with power and precision. The ball bounced and, within an instant, found the bottom corner.
Son Heung-min's effort from 20 yards, flew past City goalkeeper Ederson into the bottom left corner ensured the victory for host.
Jose Mourinho, Tottenham Hotspur
On Steven Bergwijn's goal
"It's the best way to come to a club. We were not putting pressure on him. We signed him early in the week, so we had time for him to train and speak. He's very intelligent, humble. At home against the champions, to score a goal, not a normal goal, couldn't be better for him."
On beating Pep Guardiola
"It's a pleasure to get three points in a match where we knew it would be very difficult. I have better feelings for Pep than you can imagine. We worked together for three years."
Pep Guardiola, Manchester City
"We played well but lost the game. It happened again. They had two shots and scored two goals.
"I don't have too many things to say about the performance. We have to accept it and analyse it. It is not easy. We did really well, honestly.
"With this performance, how should I be critical? This performance would be an incredible mistake to say how bad they are. We created chances and conceded few.
"A few times this season it has happened. The sending off was a key point. We said at half-time be careful, yellow cards are a fast and quick action."
Premier League
Serie A
La Liga
Ligue 1